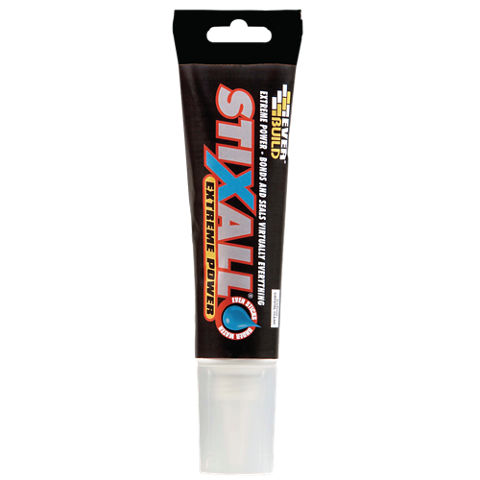 The ultimate combined building adhesive and sealant, based on hybrid polymer technology, with the most Extreme power to both bond and seal virtually EVERYTHING to ANYTHING in virtually all conditions, even under water!
EVERBUILD® STIXALL® is a one part, chemically curing sealant and adhesive combining the best qualities of silicone and polyurethane technologies. It is specifically designed for adhering most common building surfaces to each other and themselves.
Incredible initial grab, no slip & gap filling properties.
High bonding strength.
Interior and exterior use.
Can be applied to wet surfaces.
Totally waterproof & weatherproof.
Quick curing.
Overpaintable if required (with water based paints - test an inconspicuous area before use).
Resistant to temperature extremes -40 °C to +100 °C.
Resistant to chemicals (10 % dilute acids/alkalis, most solvents).
Excellent primerless adhesion to most surfaces, including metals, most plastics, glass, concrete, plaster, plasterboard, polyester, perspex, glass, wood, enamel, painted surfaces etc.